With Ray Rice beating his now wife unconscious, Greg Hardy manhandling his girlfriend and throwing her on a pile of GUNS??? Jonathan Dwyer, and Adrain Peterson, and Reggie Bush over discipling their children, the NFL seems out of control.
Other than pissing off fantasy owners, the things these men have done are reprehensible. Rather than throwing stones however maybe someone should help these men. The big bad NFL should show it new found compassion, and should make them get counseling and complete program as they wait to be reinstated.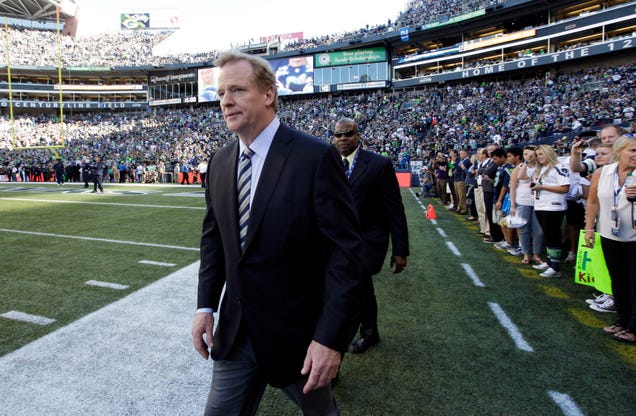 Late last night, the NFLPA officially filed a grievance on behalf of Ray Rice, appealing the indefinite suspension he received hours after tape of him punching out his fiancée was made public—and months after the NFL had decided a two-game suspension was appropriate. It sounds like that disciplinary dissonance is going to be the basis of his appeal.
The NFLPA appeal is based on supporting facts that reveal a lack of a fair and impartial process, including the role of the office of the Commissioner of the NFL. We have asked that a neutral and jointly selected arbitrator hear this case as the Commissioner and his staff will be essential witnesses in the proceeding and thus cannot serve as impartial arbitrators.
That apparently won't be a problem. An NFL spokesman told the Baltimore Sun that Roger Goodell "never intended" to hear the appeal in a case in which he's serving as a witness, because that would be silly. (Not silly, according to the NFL: all the other personal conduct policy suspensions, in which the commissioner rules on the appeal of his own ruling.)
From an appendix to the NFLPA's statement titled "additional information":
Under governing labor law, an employee cannot be punished twice for the same action when all of the relevant facts were available to the employer at the time of the first punishment.

The hearing will require a neutral arbitrator to determine what information was available to the NFL and when it was available.
If you want to know what Rice's side is going to be arguing, there it is. When the NFL finally gave official justification for the indefinite suspension, it claimed the increased penalty was not for domestic violence, but for lying about the incident in a meeting with league executives.
Rice's defense may not touch on what he said in that meeting, but rather on whether that meeting should have mattered at all. The criminal complaint against him described exactly what happened in that elevator, and the NFLPA will argue that the NFL had all of the revenant facts at its disposal when it handed down a two-game suspension. That would, according to the union, make his second suspension double jeopardy under the CBA.
Will either side address the still-very-much-open question of whether the NFL had access to the elevator video before it was released? That's an excellent question. But the closed nature of the appeals hearing means that the proceedings, including Roger Goodell's testimony, won't be made public. At least, not through official channels.
Greg Hardy Latest
Panthers' Hardy, appealing domestic
violence conviction, takes voluntary leave
(CNN) — Carolina Panthers star defensive end Greg Hardy, who has been granted a new trial this fall after a domestic violence conviction in July, has taken a voluntary leave with pay until his legal matters are resolved, the team announced Wednesday.
"We understand Greg's decision," Panthers general manager Dave Gettleman told reporters. "And given the circumstances, it's very important that he concentrate on his legal issues. We believe this is the right course of action at this time for both Greg and the Carolina Panthers."
Authorities say Hardy in May choked his then-girlfriend, threw her around, dragged her by her hair and threatened to kill her. He was sentenced in July to 18 months of probation and a 60-day suspended sentence for the misdemeanors with which he was charged.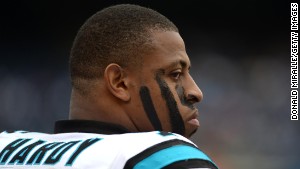 The 6-foot-4, 275 pound defensive end says he is innocent and has appealed a guilty verdict rendered by a Mecklenburg County judge in North Carolina. He was granted a jury trial that is scheduled for mid-November.
"I understand that I need to step away from football right now and take care of this legal matter. I am entitled to due process and my day in court, and that's where my focus should be," Hardy said in a statement released by the team. "I appreciate the Panthers for giving me this opportunity and look forward to being back with my teammates as soon as possible. "
Gettleman said that Hardy will be placed on the NFL's exempt/commissioner's permission list, which allows in special circumstances for players to be paid while on leave. He can still use the team's facilities but cannot attend practice.
Peterson won't play until legal matters resolved
The players' union said it worked with the league, the Carolina Panthers and Hardy on the matter.
"We support this decision and hope the best for him and his family," the NFL Players Association said in a written statement.
Hardy, who led the team last season with 15 sacks and was a Pro Bowl selection, missed Sunday's game against the Detroit Lions after the team placed on the inactive list. He played in the season opener against the Tampa Bay Buccaneers and had four tackles.
Adrian Peterson Latest
The Minnesota Vikings placed Adrian Peterson on the Exempt/Commissioner's Permission list, requiring the running back to abstain from team activities during his child-abuse case, the team announced Wednesday morning.
"This is a good decision that will allow Adrian Peterson to resolve his personal situation and the Vikings to return the focus to the football field," league spokesman Greg Aiello said in an e-mail"
The NFL Players Association also issued a statement Wednesday morning that read: "Adrian Peterson made a decision to take a voluntary leave with pay to take care of his personal and legal issues. The NFLPA and NFL worked with Adrian and the Minnesota Vikings to resolve this unique situation. We support this decision and hope the best for him and his family."
Peterson and the union had to sign off on this course of action since the CBA forbids teams from suspending/deactivating players for more than four games.
Peterson was indicted last Thursday on a charge that he injured his 4-year-old son by spanking him with a tree branch. He was inactive for the team's Week 2 loss to the New England Patriots but was reinstated Monday.
Peterson has an arraignment scheduled for Oct. 8. He faces up two years in prison and a $10,000 fine if found guilty.
USA TODAY FANTASY SPORTS
Adrian Peterson placed on commissioner's exemption list, out indefinitely
"This is the best possible outcome given the circumstances," Peterson's agent Ben Dogra told The Associated Press. "Adrian understands the gravity of the situation and this enables him to take care of his personal situation. We fully support Adrian and he looks forward to watching his teammates and coaches being successful during his absence."
Below is the full statement issued by Vikings owners Zygi Wilf and Mark Wilf:
"This has been an ongoing and deliberate process since last Friday's news. In conversations with the NFL over the last two days, the Vikings advised the League of the team's decision to revisit the situation regarding Adrian Peterson. In response, the League informed the team of the option to place Adrian on the Exempt/Commissioner's Permission list, which will require that Adrian remain away from all team activities while allowing him to take care of his personal situation until the legal proceedings are resolved. After giving the situation additional thought, we have decided this is the appropriate course of action for the organization and for Adrian.
We are always focused on trying to make the right decision as an organization. We embrace our role – and the responsibilities that go with it – as a leader in the community, as a business partner and as an organization that can build bridges with our fans and positively impact this great region. We appreciate and value the input we have received from our fans, our partners and the community.
While we were trying to make a balanced decision yesterday, after further reflection we have concluded that this resolution is best for the Vikings and for Adrian. We want to be clear: we have a strong stance regarding the protection and welfare of children, and we want to be sure we get this right. At the same time we want to express our support for Adrian and acknowledge his seven-plus years of outstanding commitment to this organization and this community. Adrian emphasized his desire to avoid further distraction to his teammates and coaches while focusing on his current situation; this resolution accomplishes these objectives as well.
We will support Adrian during this legal and personal process, but we firmly believe and realize this is the right decision. We hope that all of our fans can respect the process that we have gone through to reach this final decision."